Remember when I was so passionate about cloth diapering (cd'ing)? About 3 months ago, Quinn started soaking through every cloth diaper I put on him and that was it. We have been using disposables (sposies) since then to save our furniture. I have to admit that it's much easier, but am often annoyed with myself for cd'ing for 2+ years and now using sposies. Regardless, it's time to start selling off all our cloth diapers and accessories. Yes, there is a big market for second hand cloth diapers. Just visit
this site
and you will find a whole community of passionate cloth-diapering mamas.
I recently sold off a couple of wool pant sets that I was sad to see go but it was time. Long pants are called longies (so original!). These longies were knit by mom using some custom dyed wool that was sold at auction. I bet you never knew the complexities of cd'ing ;) I found a couple of shirts to match. I loved this set.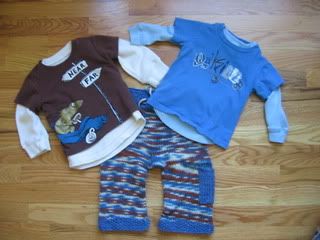 Our favorite set ever was this monkey boy shirt/longies. I found the orange monkey shirt at Old Navy and loved it so much that I had someone dye the yarn to match and then knit these cargo longies. I bought the shirt in 2 sizes (3 - 6 mos and 6 - 12 mos) so that we could get alot of use out of it. Did I mention that the longies were $70? I also found the cream color shirt at Old Navy in the same color scheme. Such good memories!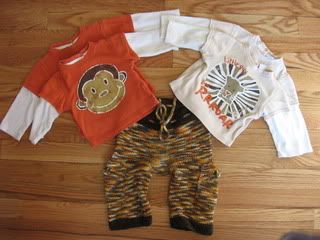 I was able to sell both of these outfits and a bunch of other stuff on diaperswappers. I hope they are much loved in their new homes :)